Aurora™
See the most amazing sights with Aurora, the beautiful, mystical game from Northern Lights Gaming! Wake the trolls and experience fairy tale winnings!!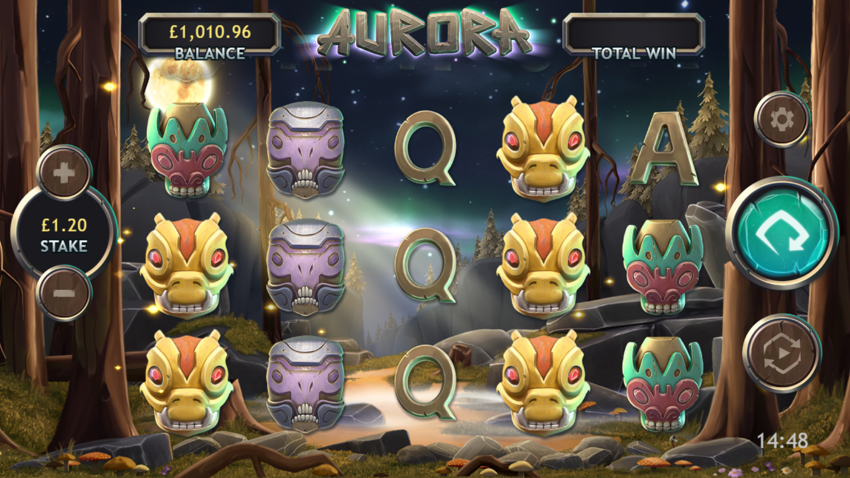 Quietly tiptoe through the forest glade and watch the skies above deliver great cash wins...SHhhh! Be careful fortune favours the brave watch out for the mountain trolls, frozen in time, they come to life and deliver huge cash wins in the free spins bonus. Listen carefully for the winds of change  as they can sweep through the forest at the end of any spin to deliver wild reels. Make your fortune lucky on Aurora!


At the end of every spin look out for the forest awakening, wind blows and trees rumble as the reels respin to deliver plenty of wild winnings.
The stone Troll is only available on the middle reel, if only part of the Troll lands in view then this delivers wild wins but watch carefully as the Troll will try to fill the middle reel, if this happens hold on to you backpacks and see if you can spin to your fortune in the freespin bonus.
Watch as the Troll comes to life turning the whole reel wild – if the Aurora is right there is a chance that the Troll will duplicate and move out from the middle reels to the next set of reels every spin! Keep an eye out for the middle reel again where freespins can retrigger. Freespins finishes when no more Trolls are left on the reels.
Optimised for portrait mobile gaming experience.