Hail to the winner! Hail to the big wins! Hail to 4 Corners of Rome!  Sit back and relax in Roman splendour as you conquer all 4 corners of this outstanding new slot. Keep a look out of adjacent corners, if the symbols match you trigger the 'lock and load' re-spin feature. Also featuring a high paying Free Spins game where players can pick one of three modes to adjust volatility.
4 Corners of Rome also has a Buy a Bonus to enter Free Spins and a gamble option where you can choose how much you want to gamble to enter the Free Spins in this original new feature.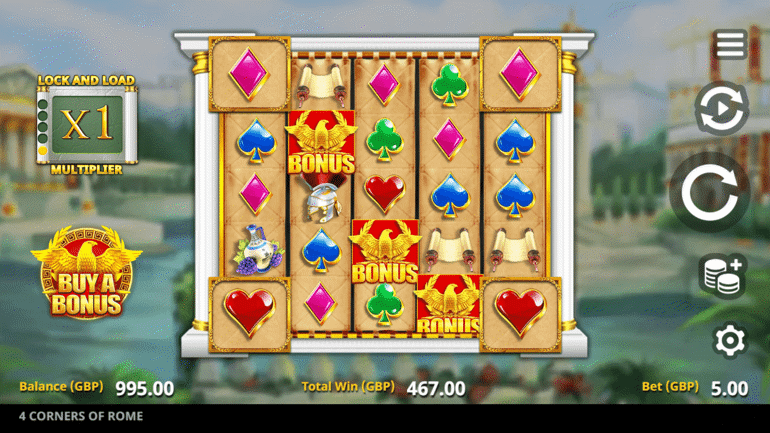 With a twist on the well-known "Link n Win" game mechanic, we introduce 4 Corners of Rome - which has a recognisable main feature with a bit of a twist. When symbols on opposite corners match, they lock, and the diagonally linked symbols transform to match the corners then re-spin for an extra chance to win - a mechanic that all players will recognise. Coupled with our first 'buy-a-bonus' gamble, which also has a unique twist, allowing the player to part gamble for a bonus feature win or lose. And all topped off with free spins. This lets the player choose their own volatility; giving us many areas to look at metrics on player preferences in free spins and gambles, with a mechanic they already know.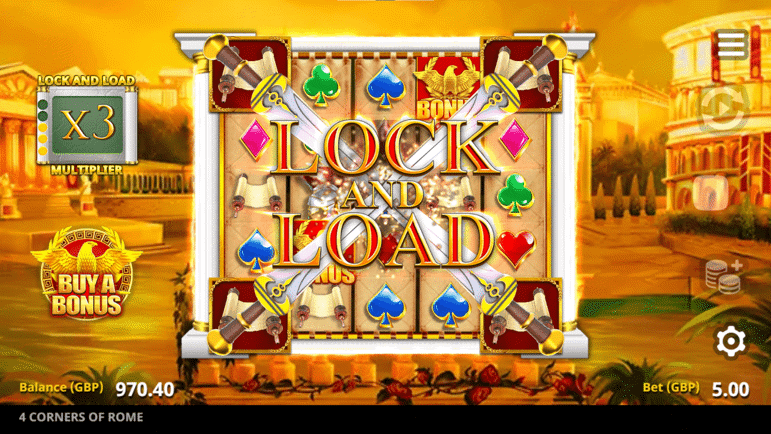 If the diagonally opposite corner symbols matches, the game will enter the Lock and Load feature. Players can match one diagonal locking line or 2 diagonal locking lines. When the feature triggers, all symbols on the locking lines swap and hold to match the corner trigger symbols. Any other winning combination in view on the standard reel window will also hold. The reels will re-spin locking more winning combinations each re-spin.
If both locking lines are triggered wherever the locking line symbols intersect, they will be upgraded to a Wild.
If a locking line intersects with another winline for a symbol that is different to the triggering symbol, they will be upgraded to a Wild.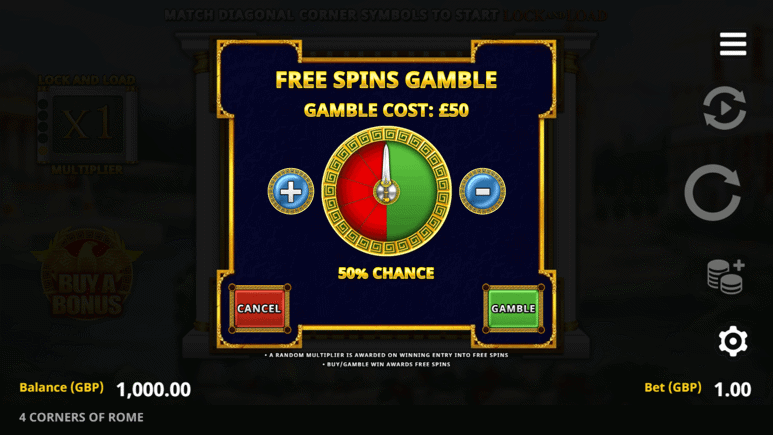 The player can select to buy the Free Spins Bonus or enter a gamble to buy Free Spins.
The player is presented with a gamble pie chart. They can increase or decrease their chance of entering the bonus by pressing the plus and minus buttons. Once the gamble chance is selected, they can hit the gamble button to spin the wheel and potentially trigger the Free Spins Bonus.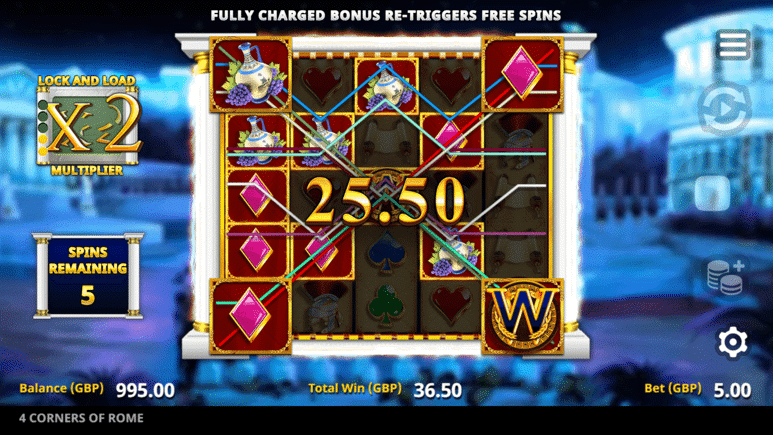 Free Spins is triggered when 3 symbols land anywhere in view.  The player is given an option to choose their Free Spins game.
3 free spins where 1-4 corners could be wild
6 Free Spins where 1-3 corners could be wild
9 Free Spins where 1-2 corners could be wild.
The player will get at least one locking line every spin.
If the whole reel becomes locked inside Free Spins, the fully charged bonus will be triggered. Either 3, 2 or 1 extra Free Spins will be awarded in the 3, 6 or 9 Free Spins bonus respectively.